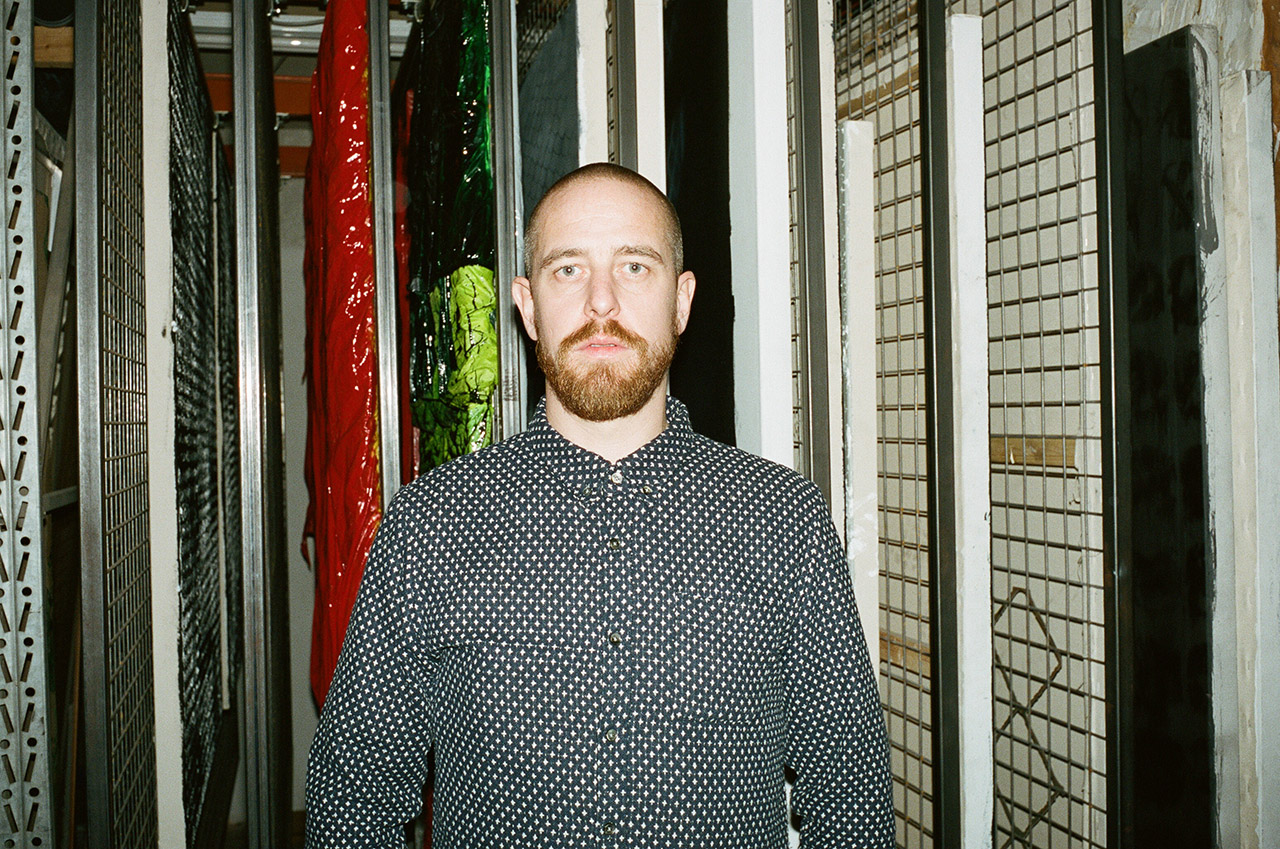 CLEMENS WOLF
Clemens Wolf, born 1981, lives and works in Vienna, Austria. Since his graduation at the University of Arts Linz, he is fascinated by dilapidated material like fences in front of dumps, abandoned warehouses and unfinished buildings.
In his latest works, he sets his main focus on the process of transformation haunted by his own history. Old discarded parachutes (he is a passionate parachutist) are transformed into sensual objects. After they are immersed in epoxide resin they are layed out in tondi, hung or stand up as sculpture or stretched on frames as paintings, every crease being arranged meticulously and finally left to dry.
When we examine Clemens Wolf's obsessive and mysterious work, it's obvious that the frontier between painting, sculpture and drawing places a great importance. The surface of the pieces with its powerfully vivid palette, reveals a world that is almost organic. While the artist sees the fabric's contractions as a stylized representation of decomposition and decay, the resin he uses to hold the folds in place gives the works a distinctive glossy aspect and an intensity that is brought out by the delicacy of the coiled up parachute cords. The choice of such a lightweight and an aerial object as the parachute conjures up the fundamental notion of gravity.
Biography
1981 born in Vienna, lives and works in Vienna, AUT
2002 University of Art and Design Linz, Fine Arts, AUT
2005 Erasmus scholarship, ABK Maastricht, NL
2006 Artist in residence, Hildesheim, GER
2006 Diesel New Art Award
2007 Graduation University of Art and Design Linz, Fine Arts, AUT
2009 Strabag Art Award
2010 Georg Eisler Preis (nomminee)
2011 Anton Faistauerpreis
2013 SommerFrische Kunst, Artist in residence, Bad Gastein, AUT
PUBLIC COLLECTIONS
Albertina, Vienna
STRABAG Art Collection
Artothek des Bundes (Austria)
Artothek des Landes (Vienna)
Essl Collection (Private Museum)
Ringturm Collection (Wiener Städtische Insurance Group)
National Bank of Austria Collection
REPRESENTATIONS
GALERIE STEINEK
Vienna, AUT
GALERIE NIKOLAUS RUZICSKA
Salzburg, AUT
BACKSLASH GALLERY
Paris, FR
PUBLICATIONS
CLEMENS WOLF #3
Verlag für moderne Kunst, 2021
CLEMENS WOLF #2
Verlag für moderne Kunst, 2019
AUTODUCK
Distanz Verlag, 2014
GOLD
Hirmer 2012
CLEMENS WOLF #1
Verlag für moderne Kunst, 2012
SOLO EXHIBITIONS
2022
LETS PLAY – FORM FOLLOWS FUNCTION
Galerie Silvia Steinek
Vienna, Austria
2021
NO ONE KNOWS
Artworld
Vienna, Austria
2020
CAN'T TOUCH THIS
Backslashgallery
Paris, FR
CAN TOUCH THIS
Galerie Silvia Steinek
Vienna, AUT
2019
OUT OF THE BLUE
McNamara Projects
Hongkong, CHN
2017
SURFACEBLUES
Galerie Nikolaus Ruzicska
Salzburg, AUT
SOMETIMES YOU LIVE TWICE
Backslashgallery
Paris, FR
2016
GROUNDED
Galerie Steinek
Vienna, AUT
WHAT GOES UP
MUST COME DOWN
Grenzkunsthalle
Jennersdorf, AUT
2015
GREYSCALE
Galerie Clemens Gunzer
Zürich, CH
THE OTHER SIDE
OF THE RAINBOW
Backslashgallery
Paris, FR
2014
HEAVY DUTY
Galerie Clemens Gunzer
Zürich, CH
2013
TIME TO BREAK OUT
Galerie Hunchentoot
Berlin, GER
UNTITLED, DIE THEATRALIK
DER BEDEUTUNGS­LOSIGKEIT
Galerie Steinek
Vienna, AUT
INES
Galerie Nikolaus Ruzicska
Salzburg, AUT
2011
HOLES N'GRIDS
Galerie Steinek
Vienna, AUT
DEFORESTOFENCES
Pratersauna Artspace
Vienna, AUT
2010
OPENED SPACE
Open Space
Art Cologne, GER
CLEMENS WOLF
Galerie Ruzicska
Salzburg, AUT
2009
CLEMENS WOLF
AKNÖ
Vienna, AUT
THE GREAT MESS
Strabag Artlounge
Vienna, AUT
HINTER DER FREIHEIT /
BEHIND FREEDOM
Galerie Steinek
Vienna, AUT
2008
A TOUCH OF RED
Phantom Galleries
Pasadena, USA
THE GREAT MESS IN LA
The Continental Gallery
Los Angeles, USA
GROUP EXHIBITIONS
2022
ALWAYS ON MY MIND
Galerie Silvia Steinek,
Vienna, AUT
RENDEZVOUS MIT DER SAMMLUNG
Landesgalerie Lower Austria
Krems, AUT
2020




I HOLD THE WHEEL TO LET IT GO




Collectors Depot,




Pörtschach, AUT
2019
CORRESPONDENCE
Sanatorium Gallery
Istanbul, TR
I WISH I WERE LIKE YOU;
EASILY AMUSED
Galerie Clemens Gunzer
Kitzbühel, AUT

TBD WWS




Collectors Depot




Pörtschach, AUT

SOMMERFRISCHE KUNST
Bad Gastein, AUT
GROUP SHOW
Galerie Gölles
Fürstenfeld, AUT
2018
HERE WE ARE
NOW ENTERTAIN US
Galerie Clemens Gunzer
Kitzbühel, AUT
FUTURE IS COLLECTIVE
Backslashgallery
Paris, FR
BREAKFAST AT TIFFANYS
Collectors Depot
Pörtschach, AUT
GARTEN DER KÜNSTLER
Minoritenkloster
Tulln, AUT
HOME BY THE SEA
Collectors Depot
Pörtschach, AUT
ACCOURAGE
Galerie Clemens Gunzer
Kitzbühel, AUT
LOUNGE ACT
Galerie Clemens Gunzer
Kitzbühel, AUT
2017
GALERIE M
Galerie Z
Hard, AUT
WEIHNNACHTEN
Galerie Propaganda
Warsaw, PL
BLACK IS THE NEW BLACK
Collectors Depot
Pörtschach, AUT
OH! YOU PRETTY THINGS
Galerie Clemens Gunzer
Kitzbühel, AUT
2016
SESSION 3 PLANÉITÉ
Backslashgallery
Paris, FR
HÖHENRAUSCH
Eigen+Art Lab
Berlin, GER
GASTRÄUME
Manifesta
Zürich, CH
INTERJEKTION
Galerie Clemens Gunzer
Zürich, CH
2015
FIGUR I STRUKTUR
Strabag Art Collection
RLB Kunstbrücke
Innsbruck, AUT
3. DANUBE BIENNALE
Meulensteen Art Museum
Bratislava, SK
SKULPTURENPARK
Golfclub
Dellach, AUT
SUMMER SHOW
Galerie Clemens Gunzer
Kitzbühel, AUT
LOOK AT ME NOW
Inoperable Gallery
Vienna, AUT
VERORTUNG
Galerie Steinek
Vienna, AUT
2014
27/1
Backslashgallery
Paris, FR
WHEN BLACK MEETS WHITE
Inoperable Gallery
Vienna, AUT
REDUX
Inoperable Gallery
Vienna, AUT
HIC ET NUNC
Stift Klosterneuburg, AUT
COLLECTED #4
Bank Austria Kunstforum
Vienna, AUT
2013
HEAVY METAL
Galerie Clemens Gunzer
Kitzbühel, AUT
LIKE IT
Essl Museum
Klosterneuburg, AUT
ELEVEN
Hohe Bleichen
Hamburg, GER
SOMMERFRISCHE KUNST
Bad Gastein, AUT
FIRST
Loft 8
Vienna, AUT
2012
DER GEMALTE RAUM
Essl Museum
Klosterneuburg, AUT
SESSHAFT
Galerie Steinek
Vienna, AUT
GOLD
Unteres Belvedere
Vienna, AUT
DEMONS AND PEARLS
Dok
St. Pölten, AUT
2010
GEORG EILSER PREIS
Bank Austria Kunstforum
Vienna, AUT
RINGTURM
Leopold Museum
Vienna, AUT
4TH BEIJING BIENNALE
Namoc National Art Museum of China
Bejing, CN
URBAN LOOK
Die Ausstellungsstrasse
Vienna Biennale
Vienna, AUT
HAPPY IN VIENNA
Galerie Steinek
Vienna, AUT
IN BETWEEN
Kadir Has University
Istanbul, TUR
KUNSTTOUR 2010
Galerie Groen Licht
Maastricht, NL
FOCUS DAILY
Continental Galler
Los Angeles, USA
IN BETWEEN
Old Patriotissa Market Hall
Nikosia, CYP
IN BETWEEN
Zentrum für Gegenwartskunst
Podgarica, MNE
2011
IN BETWEEN
CAC
Vilnius, LT
IN BETWEEN
Stadtgalerie
St. Pölten, AUT
KUNSTTOUR
Maastricht, NL
FAISTAUERPREIS
Trakelhaus
Salzburg, AUT
NACHBARN, ABGRENZUNG
UND GEMEINSAMKEIT
Eisfabrik
Hannover, GER
ART IN THE CITY
Park d'Egmont
BGArt Brussels
Vienna, BG
ES LEBE DIE MALEREI
Essl Museum
Klosterneuburg, AUT
OPERIA SERIA
Galerie Nikolaus Ruzicska
Salzbug, AUT
MÄRCHEN MYTHOS MAROTTE
Galerie Steinek
Vienna, AUT
TERMINATOR 2
Projekt_LOVE
Vienna, AUT
2009
1ST DANUBE BIENNALE
Meulensteen Art Museum
Bratislava, SK
IN BETWEEN
Galerija Umjetnina
Split, CRO
SCHWARZ AUF WEISS
IN SHADES OF GREY
Brick 5
Vienna, AUT
STRABAG INTERNATIONAL ARTAWARD
Strabag Artlounge
Vienna, AUT
KUNSTTOUR
Galerie Groen Licht
Maastricht, NL
KOSCHATZKY AWARD NOMINEES
Mumok Hofstallungen
Vienna, AUT
2008
IN BETWEEN
Genia Schreiber University Art Gallery
Tel Aviv, ISR
AUSTRIA conTEMPORARY
Essl Museum
Klosterneuburg, AUT
KUNSTTOUR
Galerie Groen Licht
Maastricht, NL
ICH HABE NICHT GENUG IHR MATTEN AUGEN
Universal Cube
Leipzig, GER
FROM THE STREET ON UP!
VillaNuts
The Hague, NL
ZEICHEN UND WUNDER
California Market Center
Los Angeles, USA
2007
LACYSTREET ARTS
Los Angeles, USA
BEST OFF 07
Nordico
Linz, AUT
KUNSTTOUR
Galerie Groen Licht
Maastricht, NL
ARTMART
Viennart Künstlerhaus
Vienna, AUT
2006
STEELCITYKIDS
Junglerushstudios
Los Angeles, USA
DIESEL NEW ART AWARD
Betonsalon Museumsquartier
Vienna, AUT
ORTSWECHSEL
Kunstverein Hildesheim
Hildesheim, GER
STREETART, DIE LESBARE STADT
Freiraum Museumsquartier
Vienna, AUT (Curator)